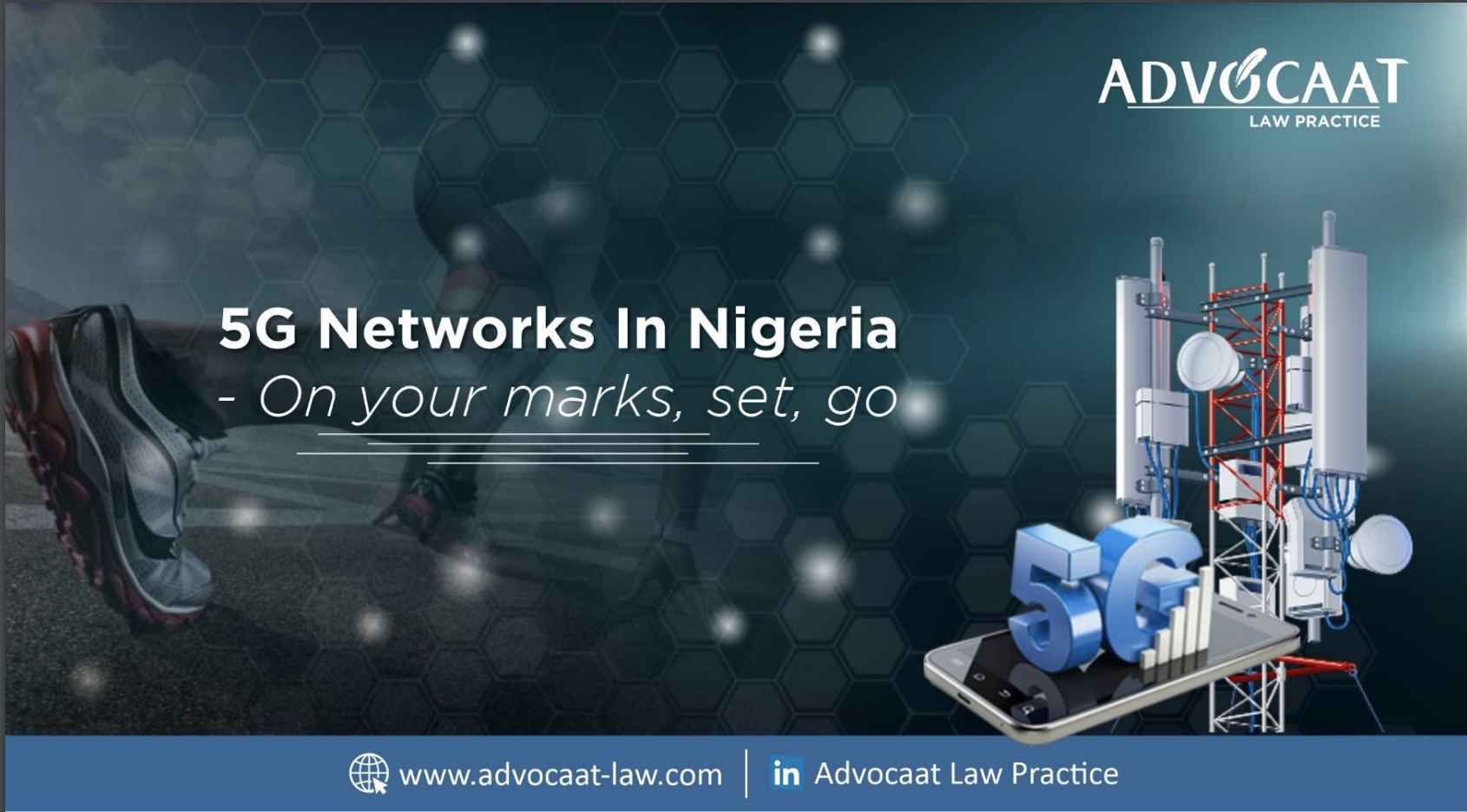 BACKGROUND
Nigeria's journey to the deployment of the fifth-generation (5G) network technology gathered momentum in December 2021 when the National Communications Commission (NCC) conducted the auction of two lots of 100 MHz TDD slots of 3.5 GHz band for the deployment of 5G networks in Nigeria.
Three companies participated in the auction process and the bidding commenced at $199.37m, as against the reserve price of $197.4m (75 billion naira) set by the NCC.1 After 11 rounds of bidding, the auction ended at $273.6m for each available lot with MTN Nigeria Communications Plc (MTN) and Mafab Communications Limited (Mafab) emerging as preferred bidders. The preferred bidders are expected to pay the winning bid price, less the Intention-to-Bid Deposit, no later than February 24, 2022. MTN is to pay an additional sum of $15.9m to be assigned the preferred Lot One (3500-3600 MHz), while Mafab was assigned Lot Two (3700-3800 MHz), at no extra cost. In addition, Mafab is required to acquire a Unified Access Service License, which is the operational license for the frequency spectrum at an additional fee of N374.6m (approximately $905,000).
The Information Memorandum (IM) provides for a validity period of 10 years2 for the awarded spectrum and further requires licensees to roll out service in at least one state in each geo-political zone within the first two years from the effective date of the license. Further roll out is expected in six additional states in the 3rd and 5th years. The technology is expected to have been fully deployed nationwide between the 6th and 10th year of the award of the license. Roll out in each state is expected to be a minimum of five sites per state.
---
THE GLOBAL JOURNEY TO 5G
The first generation of mobile networks (1G) was launched in Tokyo in 1979. However, 1G technology was poor in sound and coverage quality. There was no roaming support between various operators and no compatibility between systems leaving calls unencrypted, such that anyone with a radio scanner could intercept conversations. Despite these shortcomings the technology attracted over 20 million subscribers by 1990.
The success of 1G paved the way for the introduction of second generation (2G) in 1993 which allowed for the transformation from analog to digital communication. This switch to digital communication allowed for the introduction of multimedia systems such as SMS text messaging, MMS multimedia messaging and picture messaging. It also allowed for call and text encryption that provided privacy for users. Most importantly, the improvement in speed from a maximum of 2.4Kbps for 1G to 14.4Kbps for 2G made browsing the web and downloading data possible for the first time.
The term "mobile broadband" was first used on the introduction of 3G in 2001. Web browsing, enhanced audio and visual streaming, global roaming, video conferencing and GPS were all possible with the introduction of 3G technology which had a significantly higher maximum speed in comparison to 2G technology thereby allowing users to browse the web, download and upload data at higher speeds.
Improving speeds, security and connection even further, 4G technology was introduced in 2009 and is still widely used today. 4G with a maximum speed of 300Mbps3 supports the same applications and services as 3G but it is also capable of handling applications that need better speeds and connection, such as gaming, streaming media in high resolution and wearable technology including fitness trackers.
5G technology was introduced in 2019 with a host of improvements and upgrades from earlier mobile technologies. Increased speed is perhaps one of the major improvement that 5G provides. As stated earlier, 4G networks offer maximum download speeds of 300Mbps, but 5G offers speeds up to 10Gbps – meaning users can stream media, download and upload data and play games on the go faster than ever before.4
5G networks are critical components of the much-touted 4 th industrial revolution, the digital economy and digital transformation for businesses.5 More than 180 service
---